Looking to the west wall of the chamber, we can see several ranks
of pipes.
From left to right, being held in place by red strings are some of the bass pipes of the 8' Vox Celeste rank, then to the right with a combination of wood and metal pipes is the 8' Flute Celeste.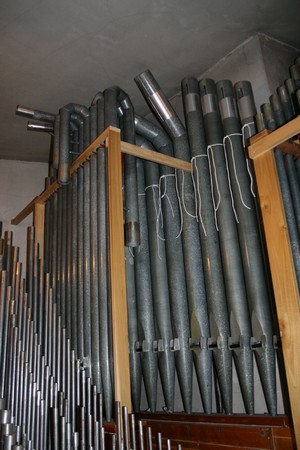 Quite a few of the pipes of the 8' Vox Celeste rank are mitered. This photo gives a nice illustration of what these pipes, which sit in the front right side of the chamber, look like. White was the string color of choice for these pipes! In front of it is the 8' Unda Maris rank, one of three ranks in the Main Chamber with 146 pipes.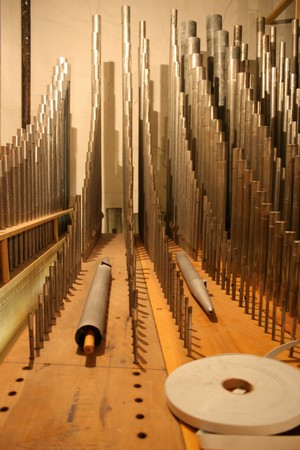 Looking to the front of the chamber, we see the remainder of the ranks on the top level. From left to right, 2' Mixture V (mounted in the rack), 8' Vox Celeste rank (four rows of pipes with a pipe laying between them), and the 8' Quintadena rank (stopped metal on far right side).
Here's a better look at the 2' Mixture V. A Mixture is something normally only seen
on classical or church
organs. This was added in 1987 when the organ was rewired and also is not of Morton vintage. The Roman numeral "V" indicates there are five ranks of pipes in the Mixture. Therefore, pressing one key on the manual or keyboard will play five pipes. Tuning the Mixture is a tedious task. "It gives me a headache just thinking about," according to CAPA Director of Maintenance Phil Hidy.